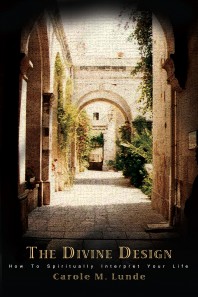 The Divine Design
How To Spiritually Interpret Your Life
This book is about living in a larger world than we now see. It is about being involved in a cosmic tapestry of our own choosing and yet of God.
You can understand who, what, and why you are at any given moment; explore understanding your greater purpose, your higher nature, and how it all fits into divine order.
The word metaphysics simply means "beyond the physical." The American Heritage Dictionary says: "Investigating the nature of first principles and the problems of ultimate reality the study of being " That "being" referred to is spirituality, that which is non-tangible, but of the soul.
We have reserved spirituality for the mystic and the scholar, considering it beyond practical comprehension and probably of no earthly use anyway. But this is not true. The ideas and teachings in this book are aimed at the spiritual interpretation of one's own life and every day living in spiritual principle.
You are much more than you now know. You can learn to discover more of the Greater You that is the "image and Likeness of God" and begin to live it in joy and wonder.
---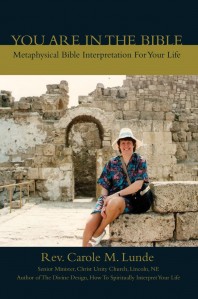 YOU ARE IN THE BIBLE
METAPHYSICAL BIBLE INTERPRETATION FOR YOUR LIFE
How can it be that you are in the Bible? It is a mirror in which you can see yourself. The Apostle Paul said we would see dimly at first and then face to face.
When you spiritually interpret what you read in the Bible, you will more clearly understand your amazing relationship to God. The Bible is an enjoyable reference book for your life, once you have some tools with which to bring to light its true meaning. It is also a sacred text written by inspired teachers who expressed it in the context of the ancient civilization in which they lived. And yet it is the story of your inner development as well.
Metaphysical or Spiritual Interpretation is the clearest, most uplifting and useful way to understand the Bible's message to you.
---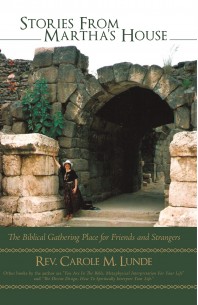 Stories From Martha's House
The Biblical Gathering Place for Friends and Strangers
Luke 10:38 "Now it came to pass, as they went, that he entered into a certain village, and a certain woman named Martha received him into her house." This short story in the Book of Luke indicates that Martha, Mary, Lazarus, and Jesus were dear friends. It is possible they met at her house often. There is a middle eastern tradition of hospitality to strangers. So it is also possible travelers were accorded hospitality at Martha's as well. I chose Martha's house as the place where stories were shared and expanded those stories. It is exciting to flesh these stories out with characters that might have been there, telling their stories as well. These stories are fun and interesting to read and they make great dramas. Read and enjoy them, or create dramas from them. You will receive a perspective on the Bible that is both thrilling and personally enlightening.
---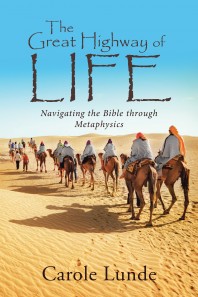 The Great Highway of Life
Navigating the Bible through Metaphysics
Did you awaken one day to your spiritual nature and wonder how you got there? The flower grows from a seed in the physical ground, pushes up toward the sunlight, growing a stem and leaves that reach for the light, and suddenly it blooms! It is a beautiful bloom that is nothing like the stem, leaves, seed and ground it came from. A friend asked if the flower is as surprised when it blooms as we are when we suddenly step into the light of our spirituality.
Would you like to explore your own development, mirrored to you by the deeper meaning of the Bible events and stories? The Bible gives us a clear pathway, a highway, not a confusing tangle of byways that lead nowhere. This is what Isaiah was telling us in Chapter 40:3.
"In the wilderness prepare the way of the Lord, make straight in the desert a highway for our God. Every valley shall be lifted up, and every mountain and hill made low; the uneven ground shall become level, and the rough places plain. And the glory of the Lord shall be revealed and all flesh shall see it together, for the mouth of the Lord has spoken."
Navigating the Bible through metaphysics leads you book by book, chapter by chapter, and sometimes verse by verse on that highway of psychological development, from infancy to the gates of spirituality that open into the Gospels. There Jesus leads us forward with the example of his life and teachings showing us the kingdom of heaven. The Apostle Paul sees the Christ nature in each of us and endeavors to live it every day. Then we reach the book of Revelation. We trod the final steps to the New Jerusalem, the Christ consciousness, where we shed all earthly limitation and are totally prepared for God to return us to our true home.
---
Finding Home in the Fourth Dimension
This book is about finding home in a world that obscures the spiritual nature of it, the fourth dimension. Becky's journey is my journey. The character herself is fictional, but her life experiences, thoughts, and feelings are mine. The other characters are from my life, but are given other parts to play in the story.
The setting begins in 1986. Becky and her friends make their way through careers, growing beyond challenges of their past that limit them, into spirituality, freedom, and beyond. These characters brought up hidden emotions I didn't know were still there. As I created the characters, they taught me to look again at my responses to life with courage, love, and gentle humor. I thank Becky and her friends for giving me gifts I could not have found within myself without them. I gave them life, though only on paper, and they returned the favor by imprinting themselves on my heart.
In Philippians 3:13, it says, "Forgetting what lies behind and straining forward to what lies ahead I press on toward the goal for the prize of the upward call of God . . ." Spirituality is our nature; the fourth dimension is our home.
---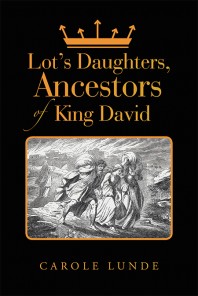 Lot's Daughters, Ancestors of King David
The story of Lot and his daughters in the Hebrew Testament was written to tell the people of that time what God would do to them if they sinned. After the story of what happened in the cave after Sodom was destroyed, Lot's story abruptly ends and a New Testament Epistle calls him "a righteous man." Needless to say this story is not told in Sunday School lessons! But there is a greater story to tell about the lives of these people and how they played out against the background of famine, abductions, earthquakes, distruction, and family dynamics. Lot and his daughters were in the lineage of Jesus. Ruth was a Moabite who married Boaz. Their son was Obed, whose son was Jesse, whose son was King David, and the generations continued to the birth of Jesus We cannot ignore this exciting and powerful lineage any longer!
---
The Witch of Endor: Sorceress or Goddess
There are so many unnamed women in the Bible, especially in the Hebrew Testament. Their mention is brief being used for a moral lesson and what is said about them is often cruel and insulting. Surely they deserve a deeper and more compassionate look without the negative veneer that has covered their true humanity.
In the Hebrew Testament there is nothing about this woman's life save the interaction with King Saul in very strange circumstances. Who could she have been? Where did she come from? Did she really have the power to conjure the spirit of Samuel? It would seem not because she was aghast at whatever happened. If she was a sorceress why was she afraid and how did she avoid being imprisoned, stoned, or driven out of the land?
The word witch is not a biblical term. It is a modern label applied to add intrigue and horror to the event, a story that seems oddly out of place in the narrative of King Saul's life.
In the genre of fiction we can adventure into that time and ask questions that bring us closer to who this woman might have been. What were the many events of her life that brought her to where she briefly shows up in 1 Samuel 28:3?